Cleopatra Slot - Where and How to Play for Free
Classics are always going to be in style, and this rule applies to the Cleopatra slot too. With huge payouts and an incredible atmosphere, its place in the online slots hall fame is infinitely sealed. The Cleopatra online slot is among IGT's all-time greats, and it is available at both land-based and online casinos. For lovers of the ancient Egyptian empire, this is a must-play slot game as it finds a perfect way to represent the old Egyptian atmosphere.
If you want to learn more about this incredible game Cleopatra, continue to read this review!
Cleopatra Slot Details
| | |
| --- | --- |
| Provider: | IGT |
| Slot Name: | Cleopatra |
| No of Reels: | 5 |
| No of Paylines: | 20 |
| Min. Bet: | ₹20.6 |
| Max. Bet: | ₹42000 |
| Max. Payout: | 10,000x |
| RTP: | 95.02% |
| Auto Spins: | Yes |
Where to play Cleopatra slot in India
In the list below you will find the best online casinos in India to play the Cleopatra slot machine:
How to get started playing the Cleopatra slot online
Without a doubt, this is a top slot. To play Cleopatra slots online is simple and straightforward, as it is available at a host of casinos online. However, before you can start to play, there are a few things that you need to keep in mind so that you will get all the goodies that come with this online slots game.
For a start, you need to decide on the online casino you want to join and if you wish to play online or on your mobile device. Fortunately, you will find a list of online casinos that feature the game listed on our sites, and most of them are available for mobile play.
Once you have decided on the casino you want to join, you can create an account so that you will have the chance to play for real money. To do this is quite easy. Click on the signup or register button so that you are transferred to the registration page. With that, you can start the account creation process. The first thing you should do is fill the fields on the form with all your correct details.
Ensure that you enter the accurate information to avoid having issues when it's time for KYC verification. Finally, you will need to complete the registration by verifying your email address. To put it into context, check the list below for step-by-step instructions to register at any casino.
How to get started with the Cleopatra slot - step by step
Follow these step-by-step instructions to register at any casino:
Pick an online casino

Select your online casino from the list of recommended casinos above.

Click Register

Click on the registration button to take you to the signup page.

Enter details

Enter the appropriate details in the correct fields.

Verify email address

Verify your email address according to given instructions.

Get started

Log into your account and get started playing the Cleopatra slot machine.
After you are done with the registration, before you can place real money bets for a chance to win real money, you need to deposit it into your account. To do this, we have taken the time to outline different steps that you should follow below.
Find the deposit button and proceed to click the button
Select any of the available payment options that fit your taste
Enter the amount you want to deposit
Confirm your deposit
Refresh the casino site to see your money.
Once your account is created, you can proceed to play to try your luck in gathering winnings from the slot game.
How to Play Cleopatra Slot Machine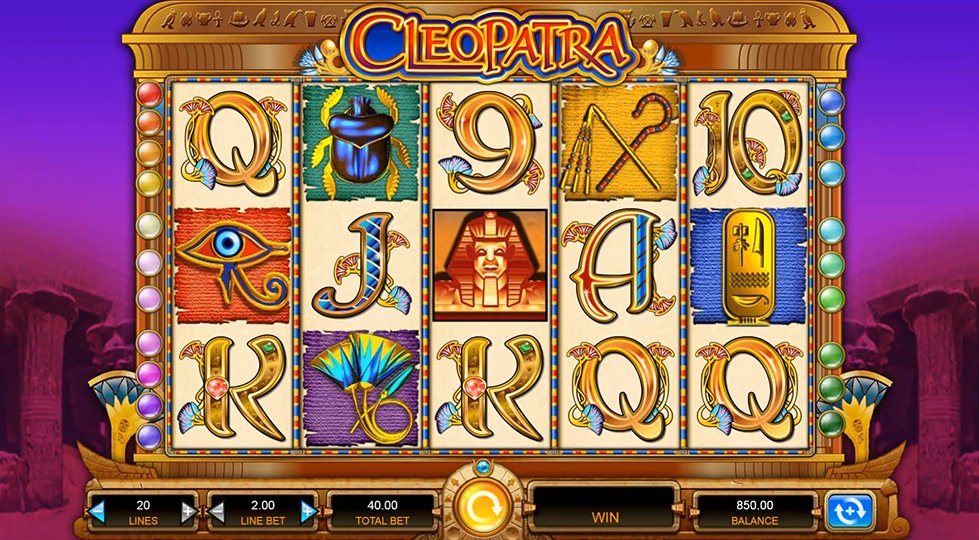 With you now an eligible member of an online casino with money in your account - or if you want to play for free - we have gathered three steps to help you know how you can play free or real money Cleopatra slot.
Select the number of lines to activate
For a start, before you can play most slot games, you need to select the number of paylines you would like to activate. The number you pick can either increase or reduce your winnings.
Additionally, you have to understand that the more pay lines you choose, the cost per spin increases. So, before you proceed to select all 20 paylines in this slot, you should take into consideration your entire budget.
Specify your preferred line bet
Another thing you should do before you can start is define your favoured line bet. You need to modify the quantity you want to bet per payline. You can select between ₹1 and ₹20.
Depending on the number of pay lines you choose, the amount you need to wager per spin will increase as well. For instance, if you choose 20 lines and your line bet is ₹20, each spin will cost you ₹400.
Spin the reels
Once you are done selecting your preferred line bet and choosing the pay lines, you can start spinning the reels. The good thing is that you can save your play settings by using the Auto Spin feature.
With this feature, you can turn the reels for a specific amount of time continuously. With that, you do not need to adjust the set-up for every spin. Therefore, you can relax and watch the reels spin continually until you hit a win or the auto spin stops.
Cleopatra Slot Review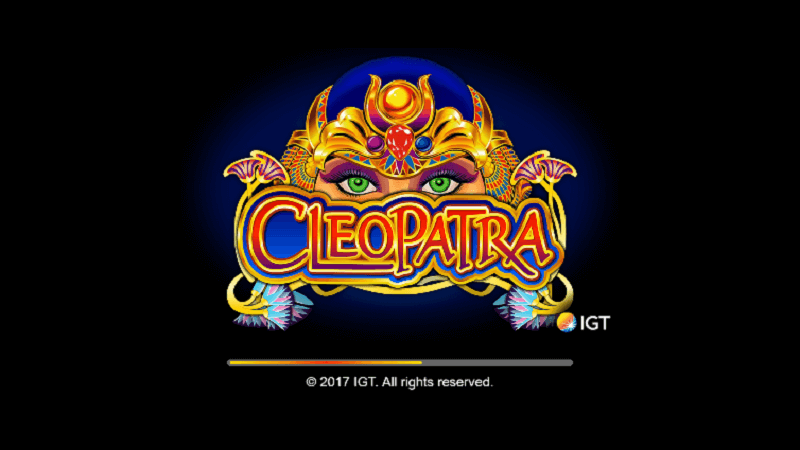 This section will give you our honest review of this 20-paylines and 5-reels Ancient Egypt-themed slot game from IGT. Launched in 2005, this interesting slot game has caused a switch in the online casino world with its numerous flashy features and bonus offers that can be triggered when symbols land on the reels. It is an exciting way to win lots of money to some players, while for some, the theme and classy features are simply enchanting.
The great part about this game's characteristics is that if you can land 5 Cleopatra symbols, you have the chance to get up to 10,000 times your bet. This means that if you place the max bet, you can get up to ₹411,124,800.
Cleopatra Slot Machine Design & Feel
The overview of the slot's look and feel is mystic and colourful. Although the graphics are not quite top-notch, which is understandable since it's a classic, it is quite exciting for players. Additionally, if you are familiar with IGT slots, you will know that its portfolio is not filled with high graphics games.
The combination of the symbols in this game creates an extreme amount of vivid colours and twisted features. Interestingly, the game is also available on mobile devices, with all the game's features perfectly presented even on smaller screens.
The look and feel of the mobile version are similar, although some little adjustments make the Cleopatra mobile slot more classy and less clunky. You can check out the game's demo version if you want to see the game design and experience it before playing for real money.
Animation and Sound
As a classic, it is no surprise that the game comes with little animation. However, we believe that the background sound included in the game has a perfect blend of the Cleopatra theme and design. You can certainly hear the ancient Egyptian sound when you spin the reels to land the winning combinations.
In the Cleopatra game, you will listen to four different sounds when you start to play the game. The first sound is the mystic theme intro music, sampled from the classic 1963 movie with Cleopatra being played by Elizabeth Taylor.
The following two sounds are the ones that play when you spin the reels in the game. Although they might sound very alike, they have a few differences if you listen closely. The last sound in Cleopatra is the one played whenever a player strikes a winning combination. In the demo game, you can hear all the sounds, giving you a feel of the Cleopatra slot before playing for real.
Cleopatra Slot RTP
The return to player percentage or RTP of every slot is the share of all wagers given back by the system as winnings to players. It is an estimated percentage that is, of course, highly speculative since gambling on slot machines is generally up to luck.
Nevertheless, slot players can pay attention to the RTP of each game they want to play and use it as a standard for playing a particular game. Compared to other casino games, slots usually come with a higher RTP, which is why gamblers generally prefer playing them over other games. In the case of Cleopatra, the official RTP is set at 95.02%, which is the standard RTP for online slot games.
In the scheme of it all, Cleopatra has an average RTP, and when compared to the highest and lowest RTPs in the memoir of slots, it is far closer to the ones with high RTP than those that have a lower RTP in the scale. With that, the slot is not a bad choice in terms of RTP.
However, you can also find many slots out there with RTPs around 97% and 98%. But, in the grand scheme of things, as we pointed out earlier, these RTP scores are more speculative and should not be relied on.
So, if you want to play for entertainment, Cleopatra, with its RTP of 95.02%, is decent. Of course, all Cleopatra slot casino sites will have the RTP officially listed. Therefore, you can always see for yourself.
Cleopatra Online Slot Features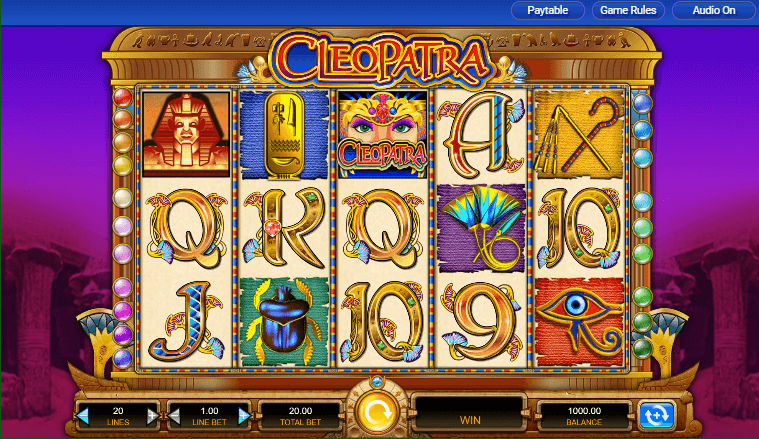 We talked about the look and feel of the game as well as the slot's RTP. In addition to that, we will be discussing the various Cleopatra online slot features that you can expect to see once you start to play the game.
Cleopatra Paylines
In this slot game, there are up to 20 paylines, meaning that if you can land three or more matching symbols on any of them, you will get something. If you can land the wild or Sphinx symbol, which is the scatter in this slot, you will get to trigger the exciting Cleopatra bonus round.
Although you can easily place bets on one line to minimise risk, we advise that you use the 20 paylines, and you should use the max bet only if you have the funds to spare. Without a doubt, using all the paylines will cost more; but the return is almost always worth it. Nevertheless, you shouldn't bet more money on Cleopatra than you can afford to lose.
Jackpots
Unfortunately, there is no progressive jackpot included in this slot game. So, you are only left with winning through the base game or free spin round.
If you are looking for slots with progressive jackpots, you can try the Cleopatra Mega Jackpots slot, which is a new variation of the classic Cleopatra slot from IGT. In the game, you can participate and try your luck to hit the mega jackpot. You can learn more about the game before you proceed to play.
Scatter Symbols
One of the most important symbols in this online slot machine is the Scatter symbol, represented by the Sphinx character, a popular character in Ancient Egypt. This symbol helps you trigger the free spins bonus round when you land three or more on a payline. If you can get up to five of them, you will receive up to 15 free spins.
The interesting part is that your wins are tripled in the bonus round, meaning that you will get 3x whatever the original return was in the base game. However, you should keep in mind that this 3x does not apply if you land 5 Cleopatra wild symbols.
It does not end there. You will also enjoy up to 100x your wager when you land 5 Sphinx symbols on a payline in the Cleopatra slot.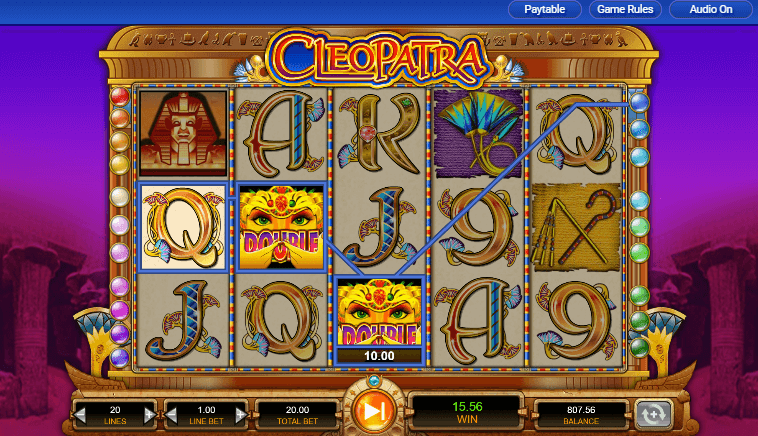 Wild symbols
The wild symbol is the most lucrative in the stack in this game, making it very pivotal if you want to win big. Here, the wild symbol is represented by the Cleopatra character, which is not surprising as she is the star character of the game.
If you can land up to 5 of this symbol on a payline, you will get up to 10,000 times your bet in return. This return is pretty rare to obtain from most slot games.
As a result, the Cleopatra slot game is one of the most lucrative that you can decide to play for real money. Additionally, the wild symbol can substitute for other characters in the game, except for the scatter symbol.
Other symbols
Aside from the two major slots that we mentioned above, you will also find other interesting characters that light up this slot game. Among the high-valued symbols are the Scarab and Lotus characters, giving you up to 750 times your bet.
The average-valued symbols include the Gold Pendant, Crook Frail, and Horus Frail. Each of them would give you a return of 400 times your bet when you land up to 5 on a payline. Finally, the low-paying symbols on the slot include the various regular playing card symbols, and they pay out 100x your bet once you land up to 5 on any of the paylines.
Cleopatra Free Spins
When you play this game, you have the chance to enjoy free spins. As it stands, you will get up to 15 Cleopatra free spins if you can land up to 5 Sphinx symbols.
The good thing about this feature is that you will receive a 3x Cleopatra multiplier, meaning that all your wins during the free spins bonus round are tripled. You can learn how to trigger the feature. You can try the Cleopatra free slots version to get started.
Is the Cleopatra slot legal in India?
The simple answer to this question is yes. However, before you can play the game, you need to go to any licensed Cleopatra casinos in India. This will ensure that you do not have any issues when you want to start playing Cleopatra slots online.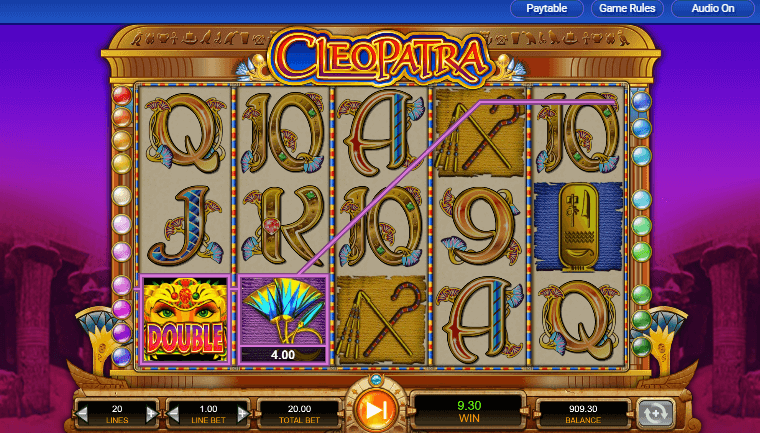 Indiagambler's thoughts on Cleopatra
After reviewing this slot game, we believe it is an amazing game even though it is a classic. Since it was introduced to players in 2005, the game has continued to remain popular, and its 10,000x payout has sealed the Cleopatra name in the slots hall of fame. To sum it up, we recommend this game, whether you are new to online slots or simply looking for a new adventure.
Is the Cleopatra slot legal in India?

Yes, the Cleopatra slot is legal to players in India.
When was Cleopatra launched?

This slot was created in 2005 by IGT, and since then, has been one of the top slot choices for various players.
Where can I play Cleopatra?

You can easily play this slot game at various online casinos that hold proper licenses in India.
Can I play the game for free?

Yes, you can play this slot game for free through the demo mode.
Can I play on mobile?

Interestingly, even though this is a classic slot, you can play the game on your mobile device. The good thing is that when you play on mobile, you will get the same features as the desktop version.
---
#Slots, #Online casino, #Cleopatra slot, #slot review