The ripples of Brazil's technological advancements in gambling are echoing worldwide. A marvel, to say the least.
Brazil's digital ecosystem shines when its prospective market magnitude is taken into account
While projections vary, from BRL 10 to just over 45 billion - which is between 2 to 9 billion in US Dollars- regarding the total value of its gambling market, there's a growing consensus that the reality is inching closer to the higher end.
The pandemic hardly put a dent, with state lotteries reporting revenue of BRL 18.1 billion in 2021.
While the present value may not quite reach a BRL 50 billion market just yet, it's surely only a matter of time until it will.
Real-money Player preferences proof of role of technology
A love of technology and how Brazilian gamblers embrace it is in evidence when considering their preferences for what they'd like to see improved to make for a superior gaming experience, and in their preferred payment method.
Feedback from real-money gamers, as showcased by 7JP Brazil, pinpoints areas longing for tech-driven refinements.
Top of the list for what they'd like to see are expedited payouts (53% of those surveyed), real-time game analytics and statistics (43%), and an expanded live game roster. All somewhat dependent on tech.
The preferred payment means for Brazil's gamblers is a clear testament to their tech embracement, too.
A study showcased on Exame.com highlights Pix as the go-to for 90% of online betters.
It's striking that Pix, a newcomer since 2020, trumps established modes like credit cards and e-wallets. Its tech-driven efficiency, delivering instant transactions even outside business hours, resonates with what Brazilian gamblers yearn for - speed.
Its innovation is set to revolutionize retail payments.
Brazil's Young, Digitally-active Pulse
Central to Brazil's technological heartbeat and economic dynamism are its demographics.
The nation's prospering online entertainment realm owes a great deal to its youthful, tech-hungry populace.
With a scanty 10.3% aged above 65, a staggering 82.3% are within the age bracket of 13-64 — the age group most responsive to gaming and sports stimuli.
The World Bank positions Brazil 5th internationally in mobile connectivity, underlined by an 81% internet reach, manifesting its solid digital foundation.
Rio de Janeiro and São Paulo, the country's urban giants, bask in 5G just as the globe's tech hubs do.
The mobile app contradiction
Beyond iGaming, Brazil's digital footprints are evident in its app-centric behavior.
App expenditures saw a 20% uplift in 2022, and with 10.6 billion app downloads, Brazil is 4th worldwide in app engagement.
So Brazilians love their apps, consider them a huge part of their daily lives and are more dependent on them than people from most other countries. All in line with the population's passion for technology.
Yet interestingly, the use of casino apps barely contributes to the value of the casino market in Brazil as a whole.
Statista, a leading provider of market research, predicts that the value of the casino app market in Brazil lies somewhere between USD 35-40 million in US Dollars.
Remarkably, about half of these earnings are from advertising, while in-app purchases account for the rest.
This makes up for roughly just 1.53% of the online casino market's value in Brazil as per estimates made by those in the know from a political and industry perspective; that 1.53% figure being far lower than expected.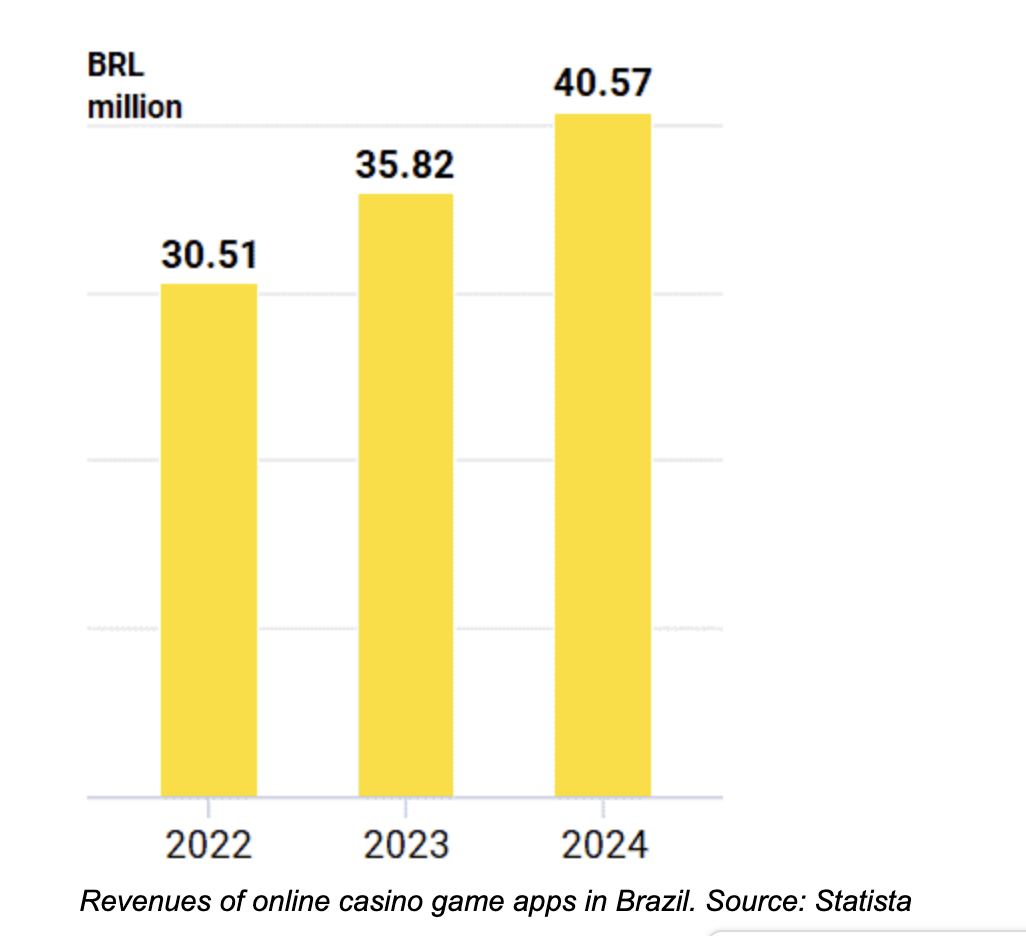 The limited presence in the mobile gaming sector can be attributed to the restricted variety of app-based casino offerings, both traditional and contemporary. Notably, the available games consist of poker (34%), bingo (16%), and a few independent slot apps (10%).
So an interesting and rare case of Brazilians' use of technology not actually being a big contributing factor to its booming gambling market.
Evolving Real-money Gaming Landscape in Brazil
It's evident Brazilians have both, a flair for gambling and a strong digital acumen.
The heavy investments in online arenas and a distinct technological advantage compared to other nations showcase Brazilian gamblers as avant-garde in the tech realm.
From BRL 2 billion to a staggering BRL 7 billion in a blink of an eye, sports betting has demonstrated how pivotal technology is for Brazil's real-money enthusiasts, marking a profound tilt of the gaming market to the online realm.
Bolstered by Brazil's fiscal might and "robust job market growth", discretionary income is on the rise, further fueling the online gaming sphere.
As entertainment and online gambling grow more synonymous, Brazil's technological passion and its changing gambling scene become indistinguishable.
In essence, Brazil's iGaming expansion is an ode to its digitally-forward citizens.
With a digital pivot evident in gaming spends and a clear trajectory towards a digital future, it's up to the industry to recalibrate and cater to Brazil's tech-hungry masses.