King Kong Fury Slot - Where and How to Play for Free
King Kong Fury is one of the various slots in the NextGen Gaming portfolio. The game is based on the 2017 blockbuster Kong: Skull Island that shows the popular Kong fighting multiple beasts, including dinosaurs on Skull Island. If you are a fan of the King Kong franchise, then you will certainly enjoy this slot.
Follow us on the revered Kong's Skull Island journey in this exquisite King Kong Fury slot!
King Kong Fury Slot Details
| | |
| --- | --- |
| Provider: | NextGen Gaming |
| Slot Name: | King Kong Fury |
| No of Reels: | 5 |
| No of Paylines: | 50 |
| Min. Bet: | 0.25 coins |
| Max. Bet: | 500 coins |
| Max. Payout: | 12500x |
| RTP: | 96.7% |
| Auto Spins: | Yes |
Where to play King Kong Fury in India
These are our top recommended online casinos in India to play the King Kong Fury slot machine:
How to get started playing King Kong Fury slot in India
f you want to play this slot with raging re-spins and other top bonus features, you need to do a few things before you can begin. You need first to choose where you want to play and if you want to play on mobile or desktop. Nevertheless, whether mobile or desktop, you will get the same playing features on both devices. Once you have done that, the next step is to continue creating an account at the casino you decided to choose. Fortunately, doing this is quite easy. You should check the actions we have listed below to see how you can register at a casino.
Pick your casino

Select one of our recommended online casinos for playing slots in India.

Register

Click on the register button to go to the registration page.

Fill in your details

Ensure that you fill in the forms presented to you correctly.

Verify

Verify your age and email.

Confirm your deposit

Make a deposit to receive the welcome bonus and you are ready to go.
Once the money is in your bankroll, you can go to the casino's lobby to find the game King Kong Fury slot so that you can start to enjoy the lightning reel, bonus round feature, exciting bonuses, and incredible game features.
How to Play King Kong Fury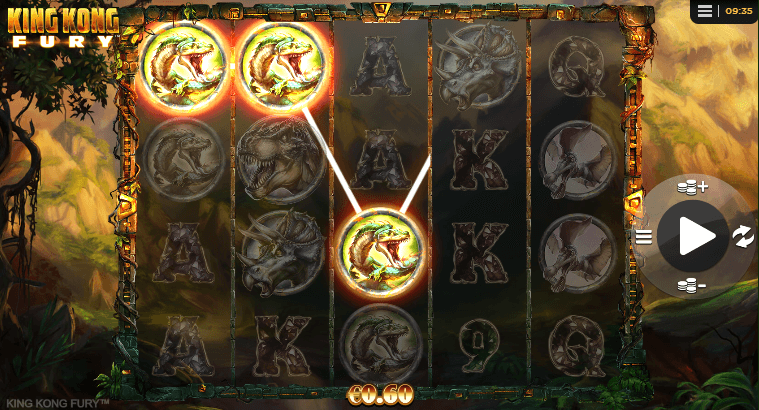 Now that you have an online casino account, you can now play the game for free if you want, as most casinos provide free casino games. However, if you're going to win real money, you will need to play with the funds you deposited into your account. Either way, we have highlighted three ways for you to play this game at any casino.
Select the number of lines to activate
To begin, when it comes to slots, you first have to pick the number of paylines that you would like to activate in the game. The number of lines you select will determine the level of your payout.
Additionally, you need to know that the more lines you pick, the more the cost per spin. In that case, before you go on to select all the 25 paylines in this game, you should keep in mind your budget.
Specify your preferred line bet
The next thing you should do before getting started is to preselect your preferred line bet. Here, you are required to adjust the quantity you would like to bet per payline. You can choose between 0.25 and 500 coins for each line.
Overall, the amount you need to bet in this video slot is dependent on the number of lines and your specified line bet amount. For example, if you preselected the entire 50 lines and your specified line bet is ₹20, each spin will cost you up to ₹1000.
Spin the reels
After you are done with the process of specifying your preferred line bet and activating the number of lines you want, you can start to spin the reels. The great thing is that it is possible to save this preset for other spins thanks to the Auto Spin feature available.
With this feature, you get to spin the reels using the same settings for a certain period. In that case, you are not required to adjust the set-up for the following spins. Hence, you can sit back and watch the reels spin to see if you are lucky enough to win or hit the bonus round.
King Kong Fury Slot Review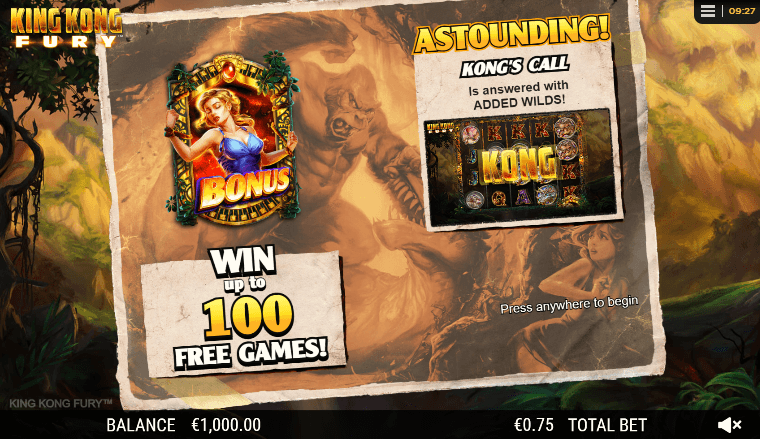 This slot game from NextGen Gaming is among the top choices for players in the online gambling world. In this section, we will give an in-depth review of the slot and all you should know. Released in 2018, the slot has continued to gain popularity and cemented its name in the hall of fame with the 100 free spins that you get when you want to start playing.
Additionally, you get the chance to win up to 12500x your bet when you play the game. Please continue to read this section to see all the exciting things that we found about the King Kong Fury slot, from the 12 wilds symbol to the look and feel of the game.
King Kong Fury Slot Machine Design & Feel
If you have seen the 2017 movie Kong: Skull Island, then the look and feel of this game will not be unfamiliar to you. If you enjoyed the movie, you can take a trip here to Skull Island to join Kong in battling different monstrous beasts while you uncover additional exciting bonuses.
The welcome screen is the image of King Kong. Then, you are taken to the reels, set on a forest backdrop where the sun is setting, giving it a golden brown colour and a perfect blend for the design.
In addition to that, the sound and animation in the game come together in unison to form an amazing experience. So, when you play, you can get immersed into the atmosphere of the island, and you will enter battle mode.
King Kong Fury Slot RTP
If you are familiar with slot games, you might have come across the concept RTP. This is the percentage amount a game will pay out over time in terms of wins to players.
So, in theory, the slot's RTP shows how much you might get back when you bet with an amount over time. King Kong Fury slot has an RTP of 96.7%, meaning that you should get up to ₹967 back when you bet with up to ₹1000. However, it would help if you kept in mind that this is all speculative, and whatever the RTP is does not reflect what you will get in return since it is a game of luck.
Other areas worth checking to see how much a slot returns include the variance and hit frequency. These concepts talk about how much a slot hits wins over a certain number of spins. King Kong Fury is a high variance slot, meaning that the frequency of wins is not very regular, but they come with huge payouts.
King Kong Fury Online Slot Features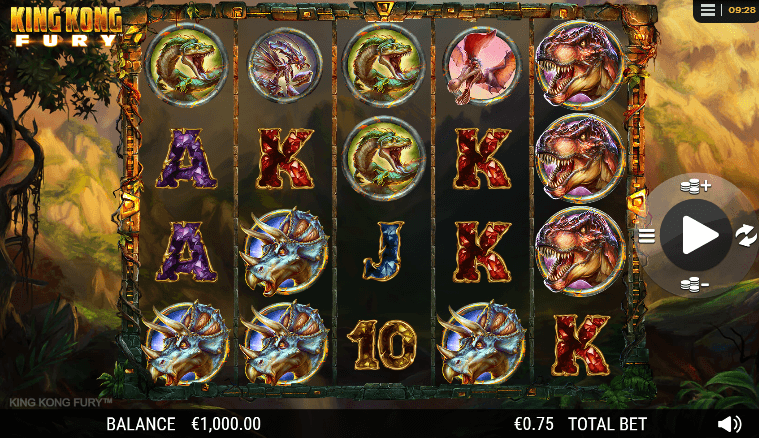 Now, let's go into the various slot features to see all the exciting things you can expect when you play the game. Continue to read on to learn more.
King Kong Fury Paylines
As we have pointed out earlier, King Kong Fury has up to 50 paylines, meaning that there are up to 50 ways to form a win. So, if you can land a winning combination on any of the lines, you will get something in return.
For instance, if you land up to 3 or more scatter symbols, the free spins bonus round will be triggered. This is why we advise that you always place bets on all the paylines in a slot to increase your winning chances. Although the amount you will end up betting might be high, the return is usually worth it in the end.
Jackpots
Unfortunately, this is not a progressive jackpot slot. Nonetheless, the game promises great returns if you are lucky to land the high-paying symbols on the paylines. In the game, you can win up to 12500x your bet!
Scatter Symbols
In this slot, the scatter symbol is the Anne Darrow symbol, and when you land up to 5, the free spins feature is triggered. The interesting thing is that this comes with an exciting respin feature that increases the return in this bonus round.
Wild symbols
One of the most important symbols in this slot is the Wild symbol. It is the highest paying symbol, and if you can land up to 5, you will get a payout of about 12500x your stake. It does not even end there. If you can land four or more of the wilds during the free spins round, you will active the Raging re-spin feature, where you will get to increase your payout with free respins.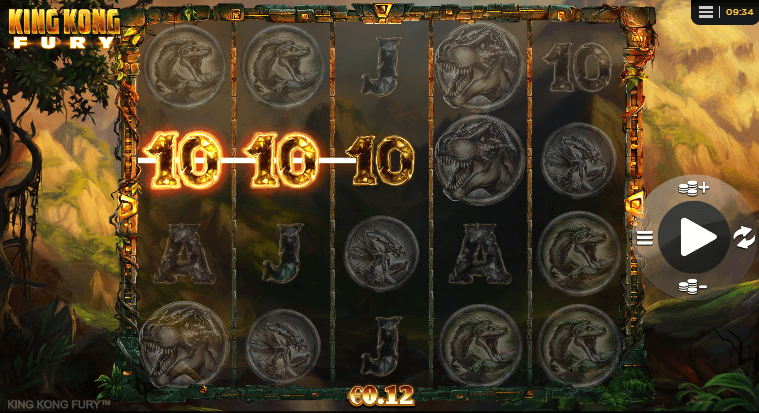 Other symbols
Aside from the two symbols that we have mentioned, you will find some other incredible characters to give you decent wins during the base game and lightning feature. The Beast symbols are the high-paying ones, while the low-paying symbols are the regular playing cards characters.
King Kong Fury Free Spins
When you play this game, you have a chance to activate nine up to 100 free spins if you can land the Anne Darrow symbol. If one scatter logo appears, you will get nine free spins, and with 5 matching Anne Darrow symbols on a payline, you will get 100 free spins.
Aside from the free spins feature, the lightning feature is randomly triggered in the base game, where 15 beast symbols are automatically added to the reels. The Kong's call feature gives up to 12 wild symbols, which will increase your payout immensely.
Is King Kong Fury slot legal in India?
Since the game's release, you can play the King Kong Fury slot in India, and all you need to do is find a licensed casino that you can join to get started. To play the King Kong Fury slot in India is legal.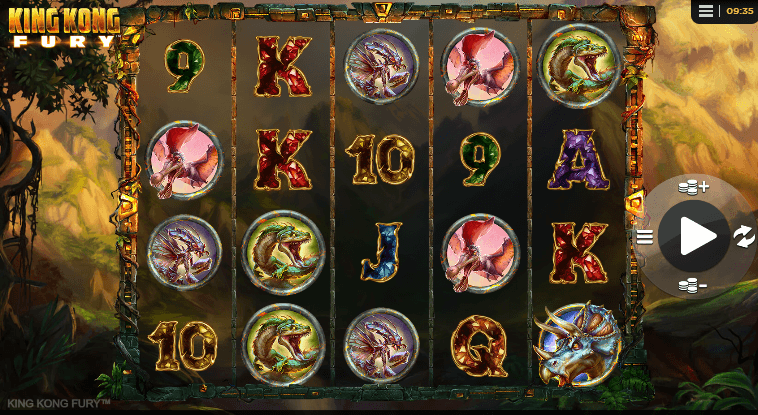 Indiagambler's thoughts on King Kong Fury
King Kong Fury is an exciting slot game filled with many incredible features that players will enjoy, whether they are playing for free or for real money. Fans of the blockbuster Kong: Skull Island will find this game nostalgic in some sense as it takes you back to some of the top scenes in the movie.
At Indiagambler, this is a game we would recommend to any player looking to uncover many exciting features and get a shot at a huge payout. Give this slot a try at any real casino today!
Can I play the game on mobile?

Fortunately, the game was developed with the latest HTML 5 technology, making it scalable to all screen sizes, including mobile devices.
What is the max payout of this slot?

For this slot, the maximum payout is 12500x your total stake.
Can I play for free?

Yes, you can play the slot for free here at Indiagambler or any top online casino.
Where can I play this slot?

If you want to play this slot for real money, you can do so at any licensed online casino in India.
---
#Slots, #slot review, #King Kong Fury slot, #Online casino