Mega Moolah Slot - Where and How to Play for Free
Mega Moolah is simply one of the best 5-reel progressive slot games in the Microgaming portfolio. The game has not one but up to four jackpots, giving it the Guinness World Record for the biggest online progressive jackpot payout. The exciting and fresh theme made it an instant hit, while its life-changing progressive jackpot cemented its name in the casino games hall of fame.
Keep reading this review to see why Mega Moolah is one of the greatest slots of our time!
Mega Moolah Slot Details
| | |
| --- | --- |
| Provider: | Microgaming |
| Slot Name: | Mega Moolah |
| No of Reels: | 5 |
| No of Paylines: | 25 |
| Min. Bet: | ₹1 |
| Max. Bet: | ₹625 |
| Max. Payout: | 75,000 coins |
| RTP: | 88.12% |
| Auto Spins: | Yes |
Where to play Mega Moolah in India
Below you will find the best online casinos in India to play the Mega Moolah slot machine:
How to play Mega Moolah slot online
As one of the top slots today, playing Mega Moolah online is easy and straightforward, as you will find it at most online casinos. As it stands, you need to pick from our list of the top online casinos we recommend on our site. After that, you will need to create an account at the casino. Once you do that, if you are lucky, you may receive Mega Moolah free spins that you can use to play the Mega Moolah game even before you deposit. In addition to that, when you decide to fund your account for the first time, you might even receive another cash bonus that you can use to start playing the game. To give you a clearer view, we have put together a step-by-step guide to start playing the Mega Moolah slot online.
Select your casino

Pick an online casino from our list of recommended casinos

Click Sign-Up

Locate and click the Signup button to start the registration process

Fill in your details

Enter your details into the form fields you are presented.

Verify email

Verify your email to complete the registration process.

Get started

Log into your account to start playing the Mega Moolah slot.
Once the sign-up process is completed and logged into your account, the next step is to fund the account you just created. To do this, follow the steps below thoroughly.
Go to the cashier tab to find the deposit button
Click on the deposit button to go to the payment page
Choose the payment method you want to use from the list of available options
Enter the amount that you wish to deposit
Confirm deposit
Claim your deposit bonus.
Once your account is credited, you should proceed to the casino's game lobby to start to spin the Mega Moolah jackpot wheel. Or, you can use the welcome bonus to play the game.
How to Play
Now that you are registered, and your account is fully funded, we have put together three steps to help you understand how to play the Mega Moolah slot.
Select the number of lines to activate
The first thing you need to do before you play the game is to pick the number of paylines you want to activate. However, you should keep in mind that the more lines you select, the higher the cost per spin. So, before you do that, you need to take into consideration your budget.
Specify your preferred line bet
Another thing you need to do before you start is to specify your preferred line bet. Here, you need to adjust the amount you want to bet per line. You can choose between ₹ one and ₹25. Depending on the number of lines you pick, the amount you will bet per spin increases. For instance, if you select five lines and your line bet is ₹25, each spin will cost you ₹125.
Spin the reels
Once you are done specifying your preferred line bet and selecting the number of lines you want to activate, you can start to spin the reels. Interestingly, you can save your settings by using Auto Spin to spin the reels for a preselected amount of time automatically. That way, you do not have to adjust the settings for every spin. So, you can sit back and watch the reels to see if you hit the Mega Moolah jackpot.
Mega Moolah Slot Review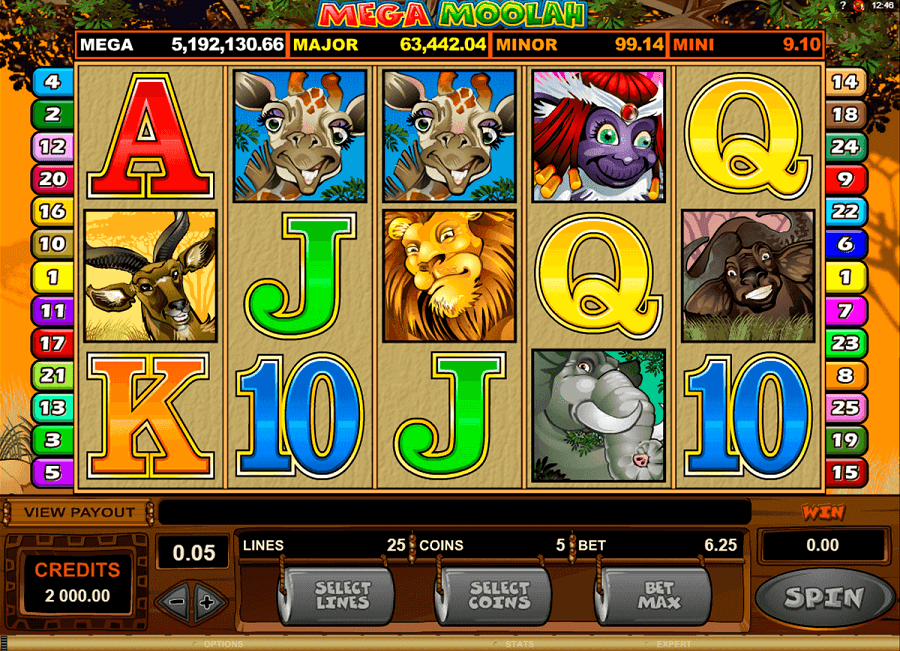 Let's dive into this top online slot from Microgaming. In this Mega Moolah review, we look at all the various areas of the game, from the paytable to the design and feel as well as other important areas. Microgaming created this casino game in 2006, and since then, it has continued to rise as one of the go-to progressive jackpots. Please continue reading to see our review of this classic Mega Moolah slot game so that you can get a good understanding of the game and what to expect when you play.
Mega Moolah Slot Machine Design & Feel
Although the theme is completely simple and not over the top, the attention to detail makes it stand the test of time. The game's music and design are not too adventurous, and its distinctive African theme makes it easy to distinguish from other slot games.
Even if you are new, you will not have any trouble navigating the game. The reels are not clustered, and it is filled with different animals representing different symbols. Aside from the popular Lion, the game's logo, you will find other familiar animals such as an Elephant, a Monkey, a Giraffe, a Buffalo, an Antelope, and a Zebra.
To ensure that players are not distracted from the goal, which is to spin the wheel, trigger the jackpot wheel, and become a Mega Moolah winner, the game does not have unnecessary gimmicks. As a result, you can start to play Mega Moolah without worrying about your device getting slow or overburdened over time.
Graphics and Animation
Without a doubt, since the game was created, it has given us some mini jackpot, a minor jackpot, and major jackpots to win over the years. Mega Moolah's graphics have a classic look that is somehow nostalgic compared to the modern-day loud and wild video slots.
Considering that the current version of the game is more than a decade old now, we can certainly say it has held its own. It has continued to remain an iconic slot; you might have even come across its symbols in one place or another. Interestingly, since 2012, the game has become compatible with mobile devices. Therefore, you will get the same real money slot experience on your phone as to when you play on your desktop.
As soon as you start the game, you are taken back to the Lion King Movie. If you are a fan of the movie, this is certainly an exciting start to pursuing the four jackpots available in this game. You will not find too many animations and special effects in the game, and the characters are static when you compare them with new-age slots.
We can say the slot is closer to a brick-and-mortar casino game. Since it is a progressive jackpot game, the classic and simple graphics are certainly not terrible. As a result, you can continue to enjoy the game on your mobile device and try to hit the jackpot while you spin the reels.
Music and Sounds
When you play most casino games, especially slots, aside from looking to win real money, you want to have a good time. One thing that plays a pivotal role in that is the game's soundtrack and background sound. Impressively, the Mega Moolah sound perfectly matches its theme, and it helps bolster the game's positive atmosphere.
Many lovers of the game have become somewhat used to the sound over the years. For a slot as old as this, the soundtrack is fine, but we feel it could use a little bit of an upgrade. With the latest innovations and new releases, we can say the game's audio is no longer up to standard, and an upgrade would go a long way.
An upgraded soundtrack would improve the Mega Moolah experience, especially for players who play modern games looking to try this slot. However, one good thing is that you can easily adjust the volume of the sound if it becomes distracting or you want to hear it even better.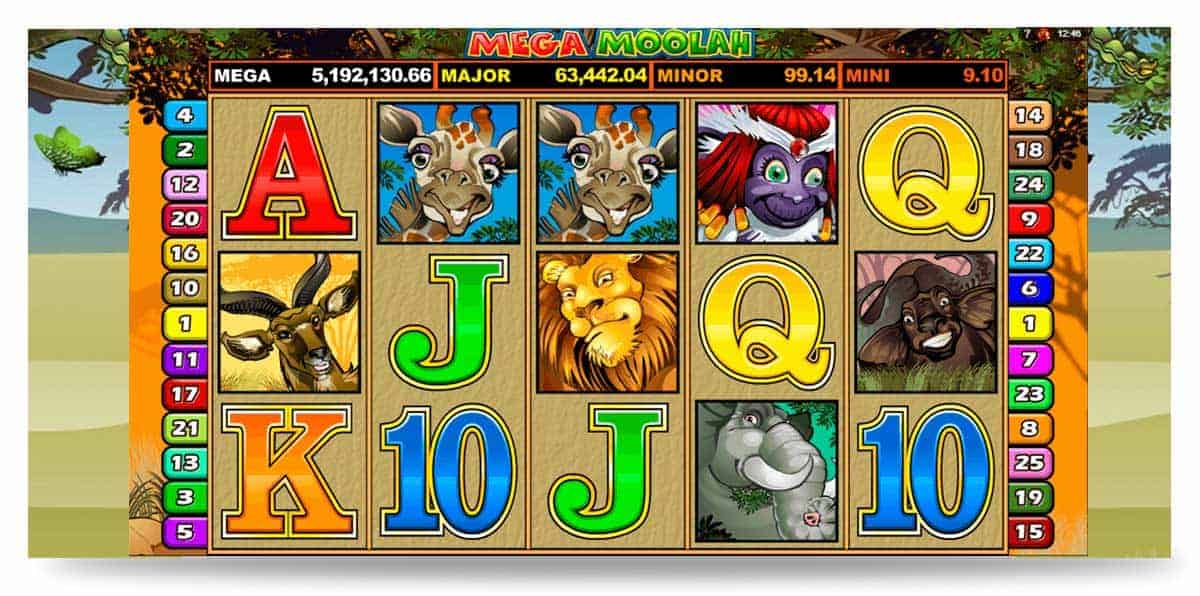 Mega Moolah Slot RTP
You should already be familiar with the return to player (RTP) percentage concept if you are a regular slot player. However, for newbies, RTP is the payout percentage that comes with every slot game. It represents the percentage of all bets you place that you will get in return in the form of winnings over a certain period of time.
But, you should know that this is completely theoretical since slots are completely based on luck. However, most slots with higher percentages might end up giving out more winnings compared to slots with low RTPs. Unfortunately, most progressive jackpot games are known to have a low RTP percentage.
Mega Moolah, unsurprisingly, has an official RTP of 88.12%, which is pretty low for online slots. You should, however, note that this official RTP only covers the base game, meaning that jackpot wins are not added.
Progressive jackpot slots' RTPs are quite low because they sacrifice a part of your bet for an increasing jackpot pool, making the RNG harsher. However, this is not the case with Mega Moolah because it has four jackpots instead of one. Mathematically, if put into consideration by adding the progressive contribution of 8.80%, it brings the total RTP up to 96.92%. Although not everyone will win the life-changing jackpot, the mini jackpot wins can make the difference in your plays.
Volatility and Hit Frequency
Let's dive into some advanced technicalities of slots. Although the RTP might give you a bit of insight into what to expect in terms of probability, it does not tell you much as a player. You probably want to know how often you can win and how large the wins can get.
To describe this concept, experts use variance or volatility. A low volatility game means that you will hit bonus rounds and regular (low) wins, while highly volatile games mean you will rarely hit wins, but when they do happen, the payout will be quite substantial.
Excluding the mega and major jackpots, Mega Moolah's variance is low. Although this might seem good, you are most likely not playing the game for the base wins. You want to hit the mega jackpot, even if it is just once.
This brings us to the Hit Frequency concept, which describes how often a slot game will land a particular combination. In the case of Mega Moolah, the hit frequency for landing the big jackpot combination is unfortunately low. The hit frequency for the game is around 46% - 47%, but the Mega Jackpot occurs on average once in 30 days. To sum it up, the game is a high volatility game in the general sense, but the regular minor jackpot output can help you accumulate a substantial payout.
Additionally, since Mega Moolah is a progressive slot, another area to consider is the jackpot velocity. This is how fast the jackpot grows. You can track the progress at most top casinos, such as Betway Casino.
Mega Moolah Online Slot Features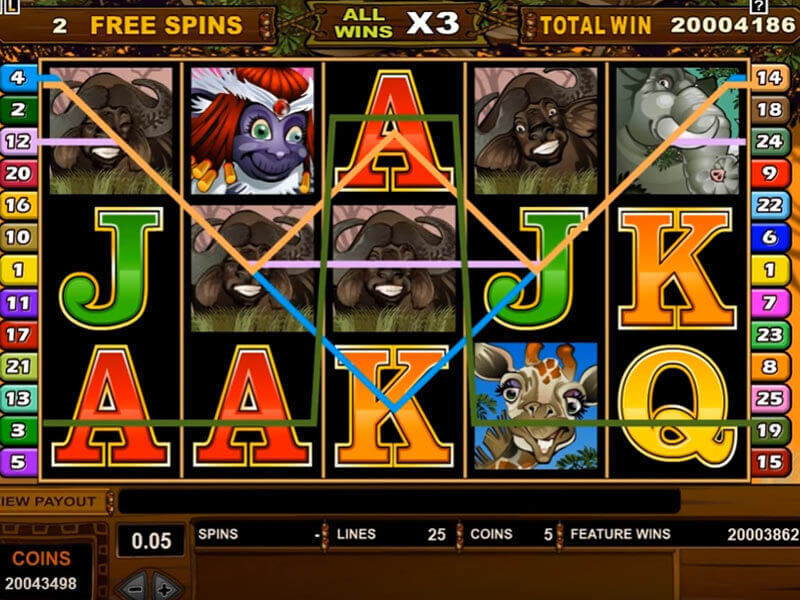 The game comes with different kinds of features that make the game much more exciting and engaging, and slot reviews are not complete without them. Therefore, we will be talking about the different features that you should keep in mind before you play the game. Continue to read this section to find out more.
Mega Moolah Paylines
In this slot game, you will find up to 25 paylines, meaning that you will win something if you land matching symbols on these lines. If you can land either the scatter or any other top characters in the Mega Moolah slot, you will get an exciting jackpot bonus game.
For instance, if you land three scatters on a payline, you will receive 15 free spins. Even though you can decide to bet on only one line from the available 25, we recommend that you bet on all of them. That way, you can increase your chances of winning in this Mega Moolah slot. Although this means that you will spend more, it might end up being worth it in the end. After all, the higher the risk, the higher the reward.
Jackpots
One of the biggest parts of the slot is its jackpot. Therefore, this review would be incomplete without us talking about it. As we mentioned earlier, there are up to four progressive jackpots in Mega Moolah. As a result, you can be sure that something exciting will happen from time to time while playing the slot for real money. In this slot, the different jackpots include mini, minor, major, and mega jackpots! Below is a quick overview of each of them in this jackpot slot review.
Mini Jackpot
This is the smallest in the ranks, and because of that, you will see it more often than other jackpots. The payout is usually not more than a regular payout, but its consistency makes up for what it lacks in capital gains. As a result, it is a nice boost for your bankroll.
Minor Jackpot
This jackpot is quite similar to the mini, but the payout is a bit higher, and it does not appear as often as the mini Mega Moolah jackpot. Interestingly, it can pay out up to ₹10,000 or even more, making it a great boost for your account.
Major Jackpot
Not quite as life-changing as the mega jackpot, but there is a substantial payout to enjoy. Many players often overlook this jackpot, but there's nothing bad about getting over 1 lakh in a slot payout.
Mega Jackpot
To the big one! This does not need any more introduction, as the name speaks for itself. The Mega Moolah Mega jackpot can pay millions of dollars, depending on the pool size when you trigger the jackpot!
Scatter Symbols
There are different symbols to expect in this online casino slot. Each of them comes with unique and exciting features. At the top of the chain are the scatter and wild symbols. The scatter is the free spins symbol of Mega Moolah. This means that if you want to get the 15 free spins bonus from this slot, you need to land up to 5 scatters on a payline. However, you need to note that since this is a very special symbol, it does not appear as often as other regular symbols in the game.
Aside from the free spins you get, you will win 100x your stake when you land up five scatters in Mega Moolah. Here, the scatter symbol is represented by a Monkey character.
Wild symbols
As we have mentioned earlier, the other top symbol in this slot is the Wild symbol. You may even say it is the most important symbol in the slot. If you are familiar with different slot games, you will know that wild symbols offer a great deal in all slot games.
In Mega Moolah, the popular Lion represents the Wild symbol, and it can substitute for all other symbols except for the scatter symbol to form a winning combination. In that case, when you have four matching symbols and a wild, you win the amount that the character offers. You can look at the slot's paytable to see how each symbol pays out to players.
For the wild symbol, when you land between two and five Lions on a payline, you get 15x, 125x, 1,500x, and 15,000x your stake. This means that when you get up to 5 wilds on a single payline, you can win 15,000 times your stake in the Mega Moolah base game. To put this into context, it means that if you stake ₹1000 and you land five wild symbols, you will get ₹1000 x 15,000, giving you a total of ₹15,000,000 payouts in just the Mega Moolah base play!
Other symbols
Although the other symbols in the game are not as special as the wild or scatter symbol, they still offer a worthy bank payout if you can land up to 5 matching symbols. In Mega Moolah, you will find regular playing card characters, but they are the lowest paying symbols in the slot.
When you land five 10s symbols, you get 40x your stake; with five jacks, you will get 60x; five Queens will give you 75x; five kings will give 100x; and the highest, which is 5 Aces, is going to provide you with 150x your stake in Mega Moolah.
Aside from the regular playing card symbols, the other symbols you will find in Mega Moolah include Elephant, Buffalo, Giraffe, Zebra, and Antelope. The payout for each character is tied to how big the animal is in real life. Therefore, in Mega Moolah, the elephant is the largest group, has the highest payout of the other symbols, and can give you up to 750 times your bet.
Following that is the Buffalo, which is the second-largest animal in the Mega Moolah group. This symbol pays out up to 600x your stake. After that is the Giraffe, followed by the Zebra, and lastly, the Antelope. Each of these symbols pays off 500x, 400x, and 250x when you get to land up to 5 of them on a payline in Mega Moolah.
Mega Moolah Free Spins
Aside from the four jackpots to look forward to in this slot, there are also the different free spins that you can trigger as you continue to play. With free spins, you get to enjoy some form of free play, meaning that you do not have to use your money for a certain number of spins in a slot.
In Mega Moolah, if you want to trigger any free spins, you need first to land three or more of the Monkey scatter symbol on any of the paylines. This is why it is important to select all the available lines in Mega Moolah not to reduce your chances of triggering the free spins in the game.
Aside from the in-game free spin, you can also enjoy free spins from the casino where you decide to play Mega Moolah. Some online casinos these days offer generic and specific free spins to players. You can easily look through their promotions page to see the type of free spins you will get when you want to play Mega Moolah.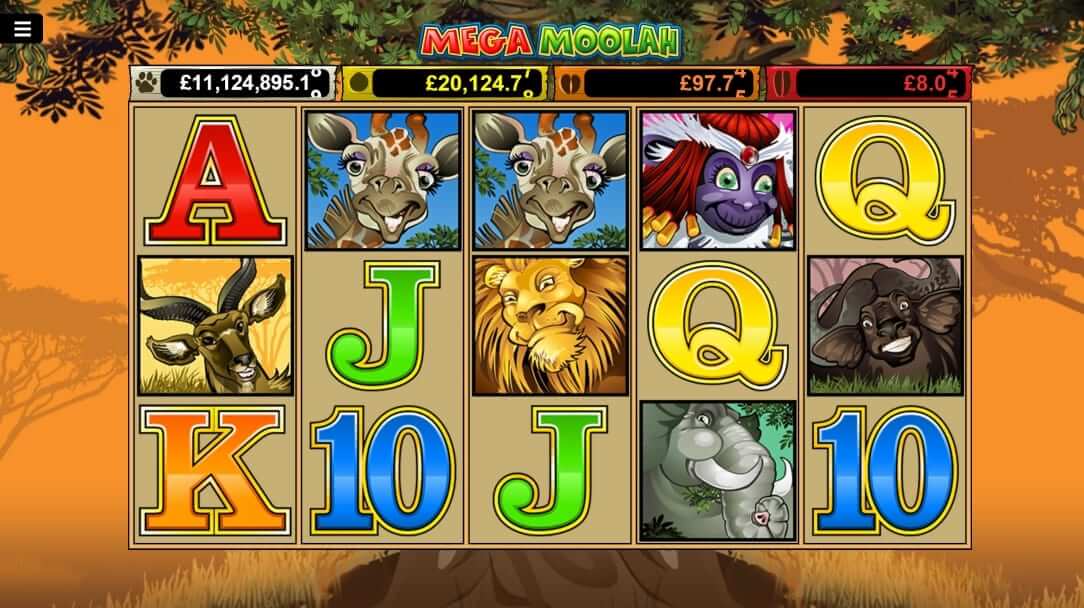 Is Mega Moolah slot legal in India?
As it stands, Mega Moolah is completely legal in India. You can choose to play the game for free at different gambling sites that offer the free-to-play version. Or, you can play for real money at any of the casino sites that we recommend on our site. All you have to do is create an account and fund it to become eligible to play Mega Moolah to try your luck in hitting the Mega jackpot prize.
Indiagambler's thoughts on Mega Moolah
As one of the top classic slots still very much around, even after many decades, we believe that Microgaming did an amazing job on this game. From the classic African theme to the perfectly blended background sound and visuals, we can say Mega Moolah was ahead of its time.
Since it was introduced in 2006, it has continued to remain among the go-to slots for players who want to try their luck on the progressive jackpot wheel. With its name in the Guinness World Records, it will remain a top slot for many years to come. We can say it is always going to be Mega Moolah summertime! Why not give this game a try today for a chance to win from the Mega Jackpot?
When was Mega Moolah launched?

This slot was created in 2006 by Microgaming, and it has since become one of the top slot choices for both new and expert players.
Where can I play Mega Moolah?

You can play this slot at online casinos with proper licenses in your country.
Can I play the game for free?

Usually, progressive jackpot slots are not available to play in free or demo mode.
Can I play on mobile?

Yes, since 2012, Mega Moolah has been available to play on mobile devices. So, go on ahead to start spinning the wheels on Mega Moolah using your mobile.
---
#slot review, #Slots, #Mega Moolah slot, #Online casino