Shah Mat Slot - Where and How to Play for Free
Powered by Red Tiger, Shah Mat video slot is a chess-themed game that gives you chances to fight for the win on a mystical chessboard, where daring and luck bring rewards. If you are a slot lover who likes adventures, this slot is for you.
The gameplay is well-developed where a win occurs when you land a cluster of five or more icons on the reels. The game has exciting features and a creative concept. Set your mind, and proceed for the opportunities to trigger Wilds and other profitable bonuses.
This is a one-of-a-kind game where your mind is your greatest strength. Think of the strategies you want to apply. In this detailed review, there is all the necessary information to know before you start to play the slot. Read the review, and land the king.
Shah Mat Slot Details
| | |
| --- | --- |
| Provider: | Red Tiger |
| Slot Name: | Shah Mat |
| No of Reels: | 8 |
| No of Paylines: | Cluster Pays |
| Min. Bet: | 0.1 coins |
| Max. Bet: | 20 coins |
| Max. Payout: | 4323.00x |
| RTP: | 95.79% |
| Auto Spins: | Yes |
Where to play Shah Mat in India
Red Tiger obtains the topmost frame-per-second frequency even on its most graphically and technically complicated slots. Shah Mat is well-known among Indian gamblers and players will find this slot in most of the legitimate virtual casinos. Below is a top list of sites where you can play:
How to play Shah Mat slot online in India
Shah Mat from Red Tiger offers thrilling gameplay. Indian gamblers will have fun while understanding the slot rules. There is a Help menu where you can read about all the information you need to know before gambling. Below are the four main steps of playing the slot.
Select a legitimate casino

The first step is choosing your preferred gambling site. There are many virtual casinos that come with proper licences. Look into the licences before you sign up. This way players can make sure the site is legitimate. This is a vital step to take before spending real cash.

Deposit money

The next step is funding your account. There are several casinos online which offer chances to gamble for free. This is an excellent opportunity to practice and learn the game rules without spending actual money. When you are ready, make a deposit by going to the deposit section of the site.

Fix the bet amount

The third step is specifying your stake size. Players have to set the bet before gambling. Shah Mat offers a minimum bet size of 0.10 coins and a maximum bet amount of 20 coins. Players with all types of budgets can enjoy this slot due to the flexible wagering range.

Click to spin the reels

This is the final step where you hit the Spin function to turn the reels. To create a winning combination, Indian gamblers need to land a bunch of five or more icons on the reels. With some unique features, the game gives ample possibilities to get lucrative cash rewards.
Shah Mat Slot Review
Shah Mat slot comes with eight reels, eight rows and winning cluster paylines. With 64 icons topple on the genuinely sized chessboard layout, there is enough place to create more than 30 identical collected wins for a single spin payout up to 80 times your bet.
Packed with different bonus features, attractive symbols and a unique theme, the Shah Mat video game keeps the Indian players glued for a long time. Shah Mat means the "king is dead." This meaning derives from a Persian ancestor. With this game, players may collect a decent amount of money.
There is enough place to land clusters on the huge chessboard which means free spins or spins can change into long sequences of repeated wins. Wild icons also tend to often appear, so despite the area of the layout, maximizing the multiplier is not always hard.
Shah Mat Slot Machine Design & Feel
Shah Mat is a chess-themed video game. This is a unique addition indeed because there are few slots that give emphasis on the chess theme. This slot has stunning illustrations that make the gameplay even more entertaining. With 64 positions, the whole layout resembles a chessboard.
The background shows a fascinating oriental temple-like picture with pretty designs, large stone pillars together with a pair of handsome horses on either side of the reels. The background music offers an Asian tune too which is absolutely suitable since India, Asia is the origin of chess.
You will find two types of regular symbols on the reels, such as high-paying and low-paying. Those icons also have beautiful designs and animations. Shah Mat game is playable on computer and mobile devices as well. Players only need to open the slot in their browsers to start playing.
Shah Mat Slot RTP
Shah Mat is a highly volatile slot which means wins don't occur frequently but when a win comes, it is big. The RTP value is 95.79% which is low. In this video slot, the RTP is modifiable, so it is better to look at the RTP before starting to play.
Shah Mat Slot Image Gallery
Shah Mat Online Slot Features
There are various exciting features in the Shah Mat game. They include cluster ways of win, low and high-paying icons, the Wild and the Scatter and four distinct bonuses. There is also an AutoPlay option for autospins and a plus/minus function to increase or decrease bet size.
Shah Mat Paylines
Shah Mat slot doesn't have any paylines as it has the cluster pays mechanic. Here a player wins when a group of icons gets collected together on the grid. So long as the symbols remain connected players will receive a winning combination. With this mechanic, you have more chances to win.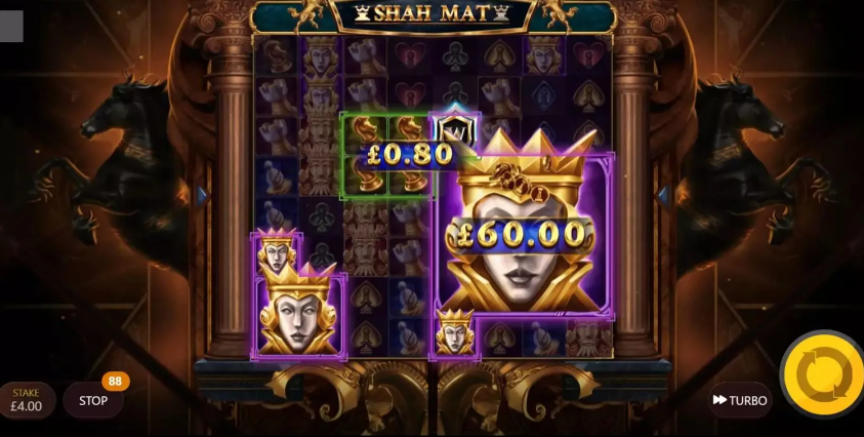 Jackpots
With the help of paying symbols, Wild, Scatter and various bonus features, chances of winning may increase. As said earlier, there is also the cluster pays mechanism which offers more chances to get rewards. Indian players can win a jackpot of 4000 times the stake in Shah Mat.
Scatter Symbols
Landing three Scatter symbols simultaneously triggers the Free Spins feature. The number of free spins depends on the number of Scatter icons.
Wild symbols
Landing two or more Wild next to each other merges them, and a multiplier gets added to that merged single symbol.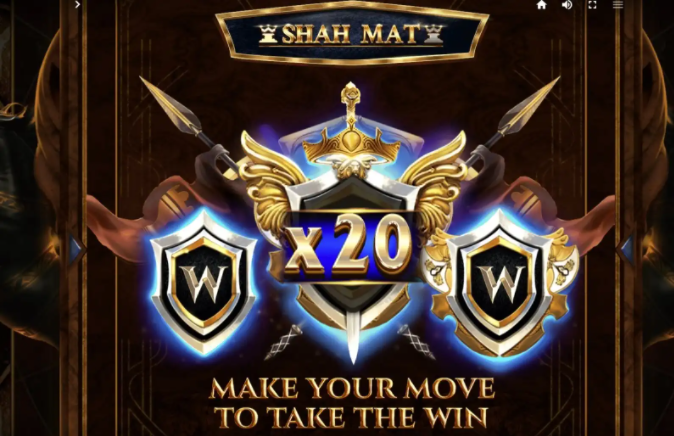 Other symbols
The low-paying symbols are the four cards, including the blue diamonds, red hearts, green clubs and the yellow spades. Related to various chess pieces, the high-paying icons include a knight, a rook, a bishop, the king himself and the queen. These icons increase the chances to form a win.
Other game features
Shah Mat slot has different bonus games, including Cascading Reels, Super Symbols, Multiplier Wild and Free Spins. You can try your luck with all these features which may help to increase your possibilities to land a win. Below are the descriptions of the two main bonus games.
Cascading Reels
This bonus function is active all through the whole gameplay, which means the slot engages the mechanism of the cascading reels. The symbols from the winning clusters get replaced by new icons. This system lets more clusters occur which may result in more wins. Only the wild symbols don't get removed.
Super Symbols
Shah Mat game comes with another bonus which lets the high-paying icons land on the reels in various sizes, beginning with the conventional 1×1, move upwards to 4×4. Super Symbols feature increases the possibilities of delivering winning clusters. The wild symbols can also appear as this feature.
Is Shah Mat slot legal in India?
Shah Mat video game is completely legal in India. There are several legitimate gambling sites where Indian players can access the game. Simply remember to check the licence of your chosen casino to make sure the site is legitimate. In this way, you will never have to worry about the game.
Completely devoted to regulated industries, the Red Tiger game provider comes with slots that have licences from various jurisdictions, and the developer is constantly adding to the licences it holds. Indian players will have a safe and secure gaming experience while playing the Shah Mat slot online.
Indiagambler's thoughts on Shah Mat
Supported by Red Tiger, Shah Mat is popular for innovative payout, flexible bonuses and a unique theme. The slot has high artistic, creative and technical quality. It offers an 8×8 layout. There are no conventional paylines. You'll find a cluster pays mechanism which may bring more rewards.
The slot is suitable for a wide variety of electronic devices. So, Indian players can gamble on desktops, laptops, mobiles from everywhere. The beautiful graphics, nice animations and fitting soundtrack are some main attractions of this video game. If you begin to play, you will keep playing for a long time.
FAQ
Can I win real money in Shah Mat?

Yes, it might be possible to win money in the Shah Mat video slot by using the different bonus features and paying symbols.
Where can I play Shah Mat Slot?

Most of the legitimate virtual casinos of India have Shah Mat game to play. You can select your preferred gambling site and sign up.
Are there in-game bonuses to trigger in Shah Mat?

There are multiple bonuses to activate in the slot, including the Cascading feature and Super symbols. There are also Free Spins and a multiplier.
Can I play Shah Mat on mobile?

Yes, Shah Mat is available on all smartphones, desktops, TV, tablets and iOS/Android applications. Indian players can play from any place they want.