Jack Hammer 2 Slot - Where and How to Play for Free
The popular game developer NetEnt revamps the market with the addition of the video slot series Jack Hammer. In addition, Jack Hammer 2 is a unique and fast-paced video slot with five reels and 99 paylines. This is different from its predecessor, that packed three reels and fewer paylines.
Furthermore, you can get free spins with a multiplier in addition to plenty of coins during your normal gaming sessions. Apart from free spins, the non-progressive video slot also features mobile, scatter symbols, wilds and multipliers. You can win a jackpot set at 990,000 coins, which is worth the time.
Jack Hammer 2 features a unique storyline where you have to rescue Pearl — the beautiful singer — from the hands of villain Don Crabby. Furthermore, you can either get to play the slot game on free demo or opt for a maximum bet of 250 coins.
Jack Hammer 2 Slot Details
| | |
| --- | --- |
| Provider: | NetEnt |
| Slot Name: | Jack Hammer 2 |
| No of Reels: | 5 |
| No of Paylines: | 99 |
| Min. Bet: | 0.50 |
| Max. Bet: | 250 |
| Max. Payout: | 990,000 coins |
| RTP: | 97.07% |
| Auto Spins: | Yes |
Where to play Jack Hammer 2 in India
NetEnt is one of the top game developers in the industry, known for production of high quality slot games. Jack Hammer 2 is a popular addition in the Indian market. Therefore, you can find it in most legitimate online casinos. Below is a list of legitimate casinos to play from.
How to play Jack Hammer 2 slot online in India
Most Indian slot players will have an easy time getting to know Jack Hammer 2, due to its simple game rules. It is highly recommended to check out the game help section for a better understanding of the slot game. Here is a guide to help you get started.
Choose an online casino.

The first step is choosing a legitimate casino in India to play from. What should you look out for in an online casino? You should ensure the casino is licensed and regulated by a known regulatory body. After confirming, follow with creating an account with the casino.

Fund your casino account.

The best part about playing Jack Hammer 2 at your favourite online casino is the free demo. After activating your account, you can start practising on your skills with the free version. Later on, you can proceed to wire your account with funds to make real money wagers.

Specify the amount you want to bet.

After wiring your account, you can start making real money wagers. You must set a bet size for each bet placed. Easily set the bet size by either increasing or decreasing the coin value. The minimum bet starts from 0.50 and grows to a maximum of 250.

Click on the "Spin" button to start the game.

You are ready to start playing after setting your bet amount. How do you begin? It is easy! Press the 'Spin' button to rotate the wheel. Furthermore, you can opt for the 'Autoplay' function to set automatic spins simultaneously. You win after landing on three match symbols or more.
Jack Hammer 2 Slot Review
Jack Hammer 2 is an intense and fun-packed slot game series by NetEnt. In case you want to save Pearl from the hands of super-villain Don Crabby and his goons, join the mysterious adventure. Moreover, you can enjoy the jump-packed fun either on your mobile or desktop.
First, there is much similarity between Jack Hammer and Jack Hammer 2. Furthermore, it is the same storyline featuring Don Crabby and his goons. You have probably met some symbols on the reels in the first series. Additionally, it comes with a high return to player percentage at 97.07%.
In addition, the Jack Hammer 2 video slot comes with a lot of entertainments and rewards. You can trigger the free spins feature and get up to 20 freebies. Also, it comes with doubled wins and random wilds. Landing a winning combo triggers the sticky win feature.
Jack Hammer 2 Slot Machine Design & Feel
Jack Hammer 2 video slot comes with an interesting theme which is quite familiar to most avid players. The game visuals resemble the retro comic style reminiscent of the original Jack Hammer. Furthermore, it features an entertaining video that introduces the lead roles of the second story.
NetEnt does a good job is bringing out the graphics and imagination that builds up the theme. The background is beautiful, depicting nighttime at the city docks. Furthermore, the atmosphere is complete with the addition of captivating music. Also, the sound waves make up for a good playing session.
In addition, NetEnt brings on board a wide host of symbols. The most rewarding symbol, similar to its predecessor, is the private eye. However, there are a wide range of available symbols including Jack, Lady Pearl, Don Crabby, goons, barrels, speed boat and weapons case.
Jack Hammer 2 Slot RTP
The detailed review takes a look at the video slot's return to player percentage. What is the RTP? It is theoretically what you should expect from the slot after wagering all your money in the long run. Jack Hammer 2 comes with a high RTP of 97.07%.
Jack Hammer 2 Slot Image Gallery
Jack Hammer 2 Online Slot Features
What makes Jack Hammer 2 exciting is the numerous ways available to boost your chances of winning. Furthermore, the slot features come with simple gameplay and rules to understand. In addition, you can use the Autoplay function to set your spins simultaneously during the game.
Jack Hammer 2 Paylines
Jack Hammer 2 video slot comes with 99 paylines to play with. Moreover, the paylines available are not fixed. Therefore, you can choose the number of lines you wish to active for each spin. However, it is highly recommended to check out the payline configuration first.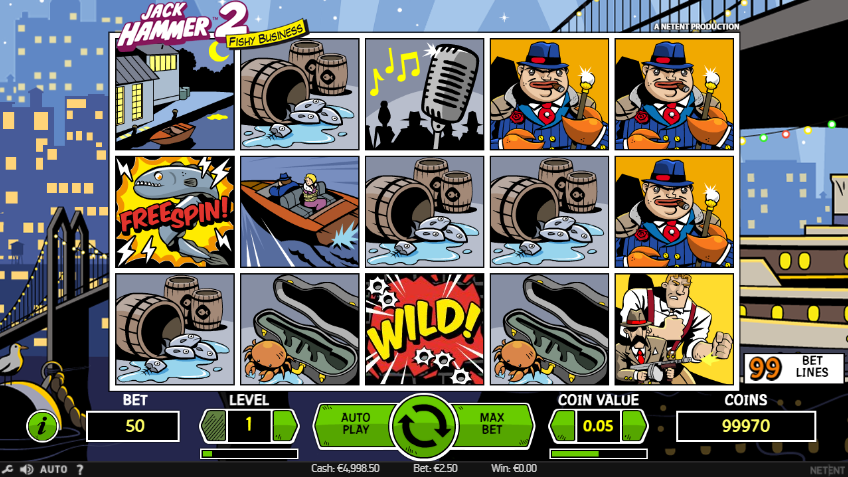 Jackpots
Unfortunately, Jack Hammer 2 is not a jackpot game. However, the available 99 paylines are useful in boosting your winning chances. Furthermore, the video slot comes with a coin win potential of up to 990,000, which is highly generous. Moreover, there are multiple betting rangers available.
Scatter Symbols
Jack Hammer 2 has a special scatter symbol in the electric eel. It awards free spins and a wild symbol that substitutes other symbols.
Wild symbols
Jack Hammer 2 video slot has a wild symbol that replaces all other symbols, apart from the free spin symbols available.
Other symbols
Another available symbol in the video slot is the Don Crabby symbol, that can multiply winnings by 150x. Also, the Pearl symbol multiplies your winning chances by 250x your initial stake. The video slot features up to 10 different symbols that create wins during the game.
Other Game Features: Wilds and Multipliers
The free spin bonus rounds take advantage from the 2x multipliers that applies on all wins and additional free spins. Furthermore, you can retrigger them for more wins. Additionally, you can benefit from the extra wild symbols that appear on Jack Hammer's fist and the orange claw.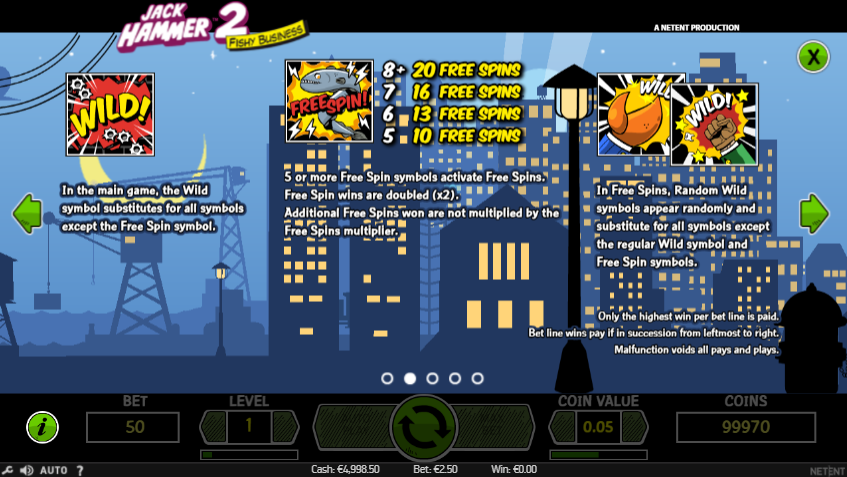 Sticky Wins Feature
An amazing addition to the video slot is the sticky wins feature. First, you can trigger this feature with at least three free spins symbols on the reels. Furthermore, the reels feature winning symbols that get stuck in place without reels re-spinning for additional winning combinations.
Free Spins Feature
The same eel symbol that activates the sticky win feature also activates the free spins within Jack Hammer 2. However, you will need at least five for the free spins. Five eel scatters lands you 10 free spins. Six scatter symbols gives you 13 free spins.
Is Jack Hammer 2 slot legal in India?
Jack Hammer 2 is legal to play in most Indian online casinos. The game is a product of NetEnt, a highly popular and trusted game developer licensed by top regulatory bodies. Furthermore, there is testing and verification of the video slot by third parties to ensure legitimacy.
However, it is highly recommended to apply caution when playing at online casinos. Therefore, go ahead to choose your preferred online casino from our list of recommended online casinos offering Jack Hammer 2. The list contains legitimate online casinos where you can wager real money without worries.
Indiagambler's thoughts on Jack Hammer 2
We really like the upgrade by NetEnt in releasing the sequel to Jack Hammer. We love the fact that the game developer did not try to tamper with it. It features a similar storyline, graphics and sounds. However, it comes with more reels and a maximum payout of 990,000 coins.
In addition, the video slot is highly compatible on both mobile and desktop devices. Indian players have the convenience of enjoying the video slot from the comfort of their homes. Do you feel like taking on an adventure with Jack Hammer while fighting Don Crabby? Try our list of recommended casinos.
FAQ
Can I win real money in Jack Hammer 2?

Yes. Similar to other available online video slots, you can wager real money and win when playing Jack Hammer 2 without any worries.
Where can I play Jack Hammer 2 Slot?

Jack Hammer 2 is a popular video slot by NetEnt, therefore you can find it in most of our recommended online casinos in India.
Are there in-game bonuses to trigger in Jack Hammer 2?

Yes. The video slot comes with in-game bonuses to trigger your wins. It includes free spins, sticky wins, scatter and wild symbols.
Can I play Jack Hammer 2 on mobile?

Yes. Jack Hammer 2 is highly compatible with most mobile operating systems. You can enjoy the experience on your mobile without any difficulties.