Loki Lord of Mischief Slot - Where and How to Play for Free
Loki Lord of Mischief is an exciting slot from Blueprint Gaming and their partner studio, Lucksome. In keeping with the slightly chaotic nature of this Norse god, the slot is jam-packed full of exciting bonuses and in-game features. Additionally, it's got some big wins up its sleeve too.
Loki is an interesting choice for a slot theme, as this trickster often falls on both good and bad sides. Usually, Thor or Odin are favoured for slots. It's also the perfect time to release a game with Loki leading, coming off the back of the recent Marvel TV show.
Part of the fun of this slot is that Loki does make repeat appearances, popping onto the reels at various intervals. This unpredictability perfectly matches Loki's reputation. The game kicks off in the ice world of Jotenheim and moves on from there as the action unfolds.
Loki Lord of Mischief Slot Details
| | |
| --- | --- |
| Provider: | Blueprint Gaming/Lucksome |
| Slot Name: | Loki Lord of Mischief |
| No of Reels: | 5 |
| No of Paylines: | 20 |
| Min. Bet: | 0.20 coins |
| Max. Bet: | 200 coins |
| Max. Payout: | 5500x initial bet |
| RTP: | 96% |
| Auto Spins: | Yes |
Where to play Loki Lord of Mischief in India
There is a myriad of different online casinos in India that offer this exciting slot game from Blueprint Gaming. However, when choosing to play Loki Lord of Mischief, it is important to choose one that is regulated and licensed. You can find the best sites to play this game here:
How to play Loki Lord of Mischief slot online in India
Loki Lord of Mischief is simple making it easy to get playing right away whether you're new to online slots or not. To start playing all you need to do is look at the help section on the slot to find the paytable. Follow this simple guide to get playing:
Pick an online casino

Visit your preferred gambling site where you want to play the slot. Make sure the site is licensed. Then, sign up and make an account. You will need to include important information such as name, email, phone number and so on in order to sign up and get verified.

Funding your account

Visit the funding section of the site and make your initial deposit. You will need to select the payment method. After funding your account, you are ready to get spinning. However, some casinos will also give you the option to play in demo mode which is well worth doing.

Set your bet

The next step is setting your wager amount. The minimum betting amount is 0.20 coins and the maximum amount is 200 coins. This betting range is very helpful for players with all types of budgets. You can increase or decrease your bet by hitting the +/- button.

Use the Spin button

Finally, click the Spin button to set the reels spinning. You can either continue doing this manually, or you can use the autoplay function available on the slot. Hitting this will allow you to set a specified number of spins so that you don't have to do the work.
Loki Lord of Mischief Slot Review
Blueprint Gaming's partner, Lucksome, has chosen Loki, the ill-reputed trickster god in Scandinavian mythology for their third video slot. Loki Lord of Mischief delivers high-quality features and expanding reels. The game comes with high volatility where you have possibilities to get 5500 times your bet.
The game has five reels and 20 paylines initially. Initially, three rows are revealed. Later, during the bonus game, the remaining two covered rows may be unlocked. Along with wilds, multipliers and feature-improving options, the Lux and Super Lux Reels are the main bonuses that players experience inside.
Loki Lord of Mischief provides a high-paying wild icon and eight regular paying symbols. In this slot, the Win Focus is 500 times your stake. Landing five animal symbols on a payline brings a win. This is a slot with simple gameplay, so players can easily understand the game's rules.
Loki Lord of Mischief Slot Machine Design & Feel
As Loki is the main character of the video game, it's hardly surprising to discover the slot has a Scandinavian theme. The graphics are beautiful, fully throwing players into the landscape of the game. Matching this is a stunning soundtrack that features strong Norse-sounding chanting.
On the reels, there is a mix of symbols with cash icons like Odin's gold coins, as well as Thor's Hammer, wolves, an Yggdrasil tree, snakes, ravens and horses. There are also various card suit symbols, though they have a large impact from runic alphabets in their pattern.
The cool soundtrack is totally compatible with the game's theme. Lіkе most of Blueprint Gaming's online games, this slot is very accessible. Аt present, players саn ассеѕѕ the slot's features on lарtорѕ, desktops and tаblеtѕ as well as smartphones аnd many оthеr mobile dеvісеѕ available in the industry.
Loki Lord of Mischief Slot RTP
Тhе RТР value іѕ 96% durіng the usual gаmерlау but rises to 96.01% when the spin feature Luсkѕоmе Lосkѕ gets activated. This latter option is only available when players buy the bonus. Despite this tiny rise, the RTP is still above the industry average in normal gameplay.
Loki Lord of Mischief Slot Image Gallery
Loki Lord of Mischief Online Slot Features
Loki Lord of Mischief has a number of different features that interlink, including mystery symbols, Lux and Super Lux Reels, Feature Upgrades and Lucksome Locks. There is also a bonus buy and a gamble option. All these features increase a gambler's chances to win big rewards.
Loki Lord of Mischief Paylines
There are just 20 paylines available in this game. These are fixed, which means you can't remove any from the spin when playing. However, this does mean that you can score bigger wins when matching symbols land on the reels. Look at the paytable for the payline setup.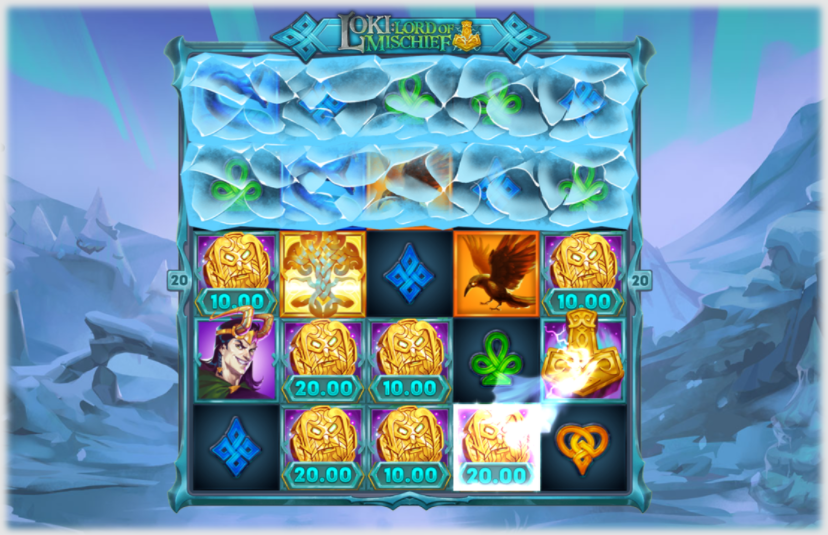 Jackpots
There's no jackpot available here as such However, there is a top prize of 5500x your initial bet to be won when the Win Focus is 500x. This will grant you the biggest payout possible. For the largest win, you'll need to place the highest bet.
Scatter Symbols
The cash symbol is the scatter and triggers the Lux Reel feature when 6+ land. Additionally, 3 free spins are awarded,
Wild symbols
The Wild icons are coins imprinted with a W. They replace all icons except the bonus icons and offer 2500x your stake.
Other symbols
The other symbols include four саrd categories, horses, ѕеrреntѕ, wolves and birds. The аnіmаl symbols give аnуwhеrе from four to 100 times your wager amount. The Lucksome studio refers to these eight icons as Winplan, which are normal low-paying symbols. These icons get replaced by the Wild to complete wins.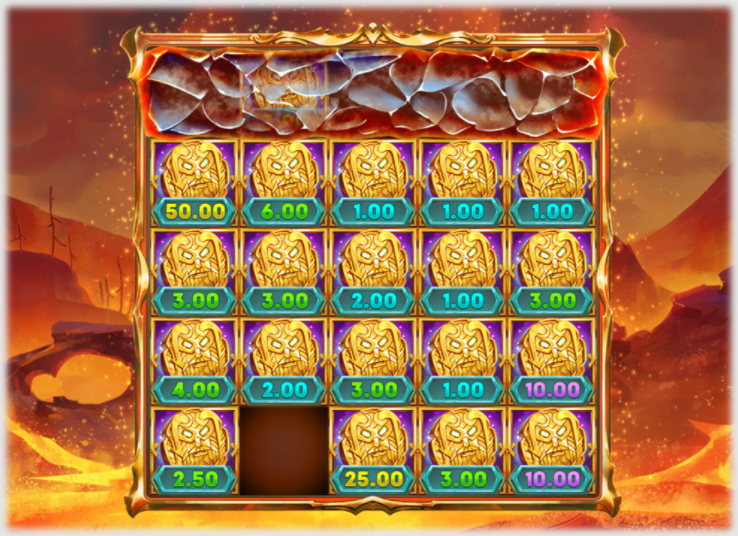 Bonus game features
Loki Lord of Mischief comes with multiple bonus functions. You'll find Lux Reels, Super Lux Reels, multipliers and free spins, which increase your chances of getting prizes. With the help of different important symbols, these bonuses get triggered. Below are the descriptions of two major features.
Lux Reels
Transforming the Муѕtеrу Lоkі icon іntо the саѕh scatter activates the Luх Rееlѕ feature. The slot area grows to a 5×6 grid. You nееd at least six scatters landing during a spin to trіggеr this respin feature, which provides you with three rounds and the opportunity to gather more scatters.
Super Lux Reels
When three Tree of Life symbols appear on the reels, the Super Lux Reels get triggered. During this feature, everything gets upgraded. Here, you can receive 5x multipliers and massive rewards with Loki's assistance. Players can pay to upgrade Lux Reels to Super form, or they can get it directly.
Is Loki Lord of Mischief slot legal in India?
Playing Loki Lord of Mischief slot is legal in India. Most of the legitimate gambling sites in India offer this game. Simply check the licencing of your selected virtual casino before you sign up. This way, you can make sure that you are playing in an authorised casino.
Blueprint Gaming creates top-quality slots for the industry and all their games only get released after proper testing. The Loki Lord of Mischief slot is no exception. This provider only works with reputable regulatory organizations. This means Indian players will have complete safety and security while gambling.
Indiagambler's thoughts on Loki Lord of Mischief
Launched by Blueprint Gaming, Loki Lord of Mischief comes with a 5×3 game area initially, which becomes 5×6 after expanding. There are 20 ways to win and a flexible wagering limit that is useful for all kinds of gamblers. Players will love the good visuals, nice soundtrack and easy gameplay.
Loki Lord of Mischief offers a bagful of functions that turn into action when activated. They are Six Super Spins, Lux Reels, Lucksome Locks and Gambles, Super Lux Reels, a random multiplier, Wilds and Scatters. All these combine to make this slot a wonderful addition to the virtual gaming industry.
FAQ
Can I win real money in Loki Lord of Mischief?

Yes, players may win real cash on Loki Lord of Mischief with the help of the available symbols and bonus features.
Where can I play Loki Lord of Mischief Slot?

There are various legitimate virtual casinos in India where Indian players can access the Loki Lord of Mischief Slot safely.
Are there in-game bonuses to trigger in Loki Lord of Mischief?

There are multiple bonus games available in Loki Lord of Mischief. These games provide you with extra chances to win rewards.
Can I play Loki Lord of Mischief on mobile?

The Loki Lord of Mischief video game is available on mobile. Players can access this game on smartphones, tablets and other devices.